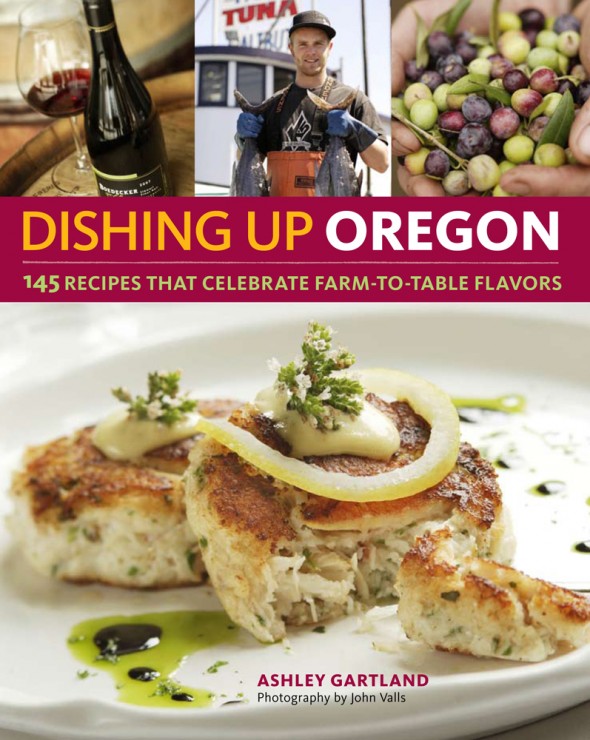 Last Fall was a whirlwind of travel and shooting. More than 70 outings to a gazillion locations over 6 months lead to a whole bunch of satisfying images and at least 300 photos delivered the publisher.
I'm proud to say that Dishing Up Oregon: 145 Recipes that Celebrate Farm-to-Table Flavors is finally out in print. The Author, Ashley Gartland has assembled a collection of recipes and profiles that shines a light on the best of Oregon's bounty.
The project was incredibly rewarding–each farmer, chef, purveyor, or rancher had an interesting story to tell–creating some memorable photo opportunities for me. And more, it was an honor to collaborate with some of Oregon's best Chefs to represent their recipes in a beautiful photograph.
Some of the highlights were the friendly goats at Juniper Grove, and the morning light on the Umpqua River near the Steamboat Inn. And driving like a madmad through Southern Oregon's Applegate valley to beat the setting sun was a trip I'd like to do again, albeit at a slower pace.
Here's the book's description from Storey Publishing:
Dishing Up Oregon:145 Recipes That Celebrate Farm-to-Table Flavors
Ashley Gartland
This collection of 150 recipes, many of them contributed by Oregon's own chefs, innkeepers, farmers, and other food producers, celebrates the delicious diversity of Oregon's cuisine. You'll find mouthwatering dishes for every meal and every course, from Chanterelle Rillettes and Asparagus Vichyssoise to Grilled Oregonzola Figs, Cuvee's Coveted Crab Juniper, Flank Steak with Sorrel Salsa Verde, Duck Confit and Butternut Squash Risotto, Blackberry Bread Pudding, and Rustic Pear Galette. Beautiful photography of farms, inns, vineyards, and more brings Oregon's food and drink scene to vibrant life.
Check out some of my favorite spreads in the book.[nggallery id=20]